By Sally French | NerdWallet
As the winter chill descends, homebodies might cozy up with a cup of hot chocolate. Travelers, meanwhile, may choose to indulge their sweet tooth with a full-fledged, chocolate-inspired vacation.
With the Dec. 15 release date of the movie "Wonka," candy might be on America's mind. Happily, you don't need to win a golden ticket to get to experience one of America's myriad chocolate factories, chocolate restaurants and even chocolate theme parks.
Here are six ways to have a zany, chocolate-inspired vacation in the U.S. this winter that are enough to impress Wonka himself.
1. Experience a chocolate theme park at Hersheypark
Hershey, Pennsylvania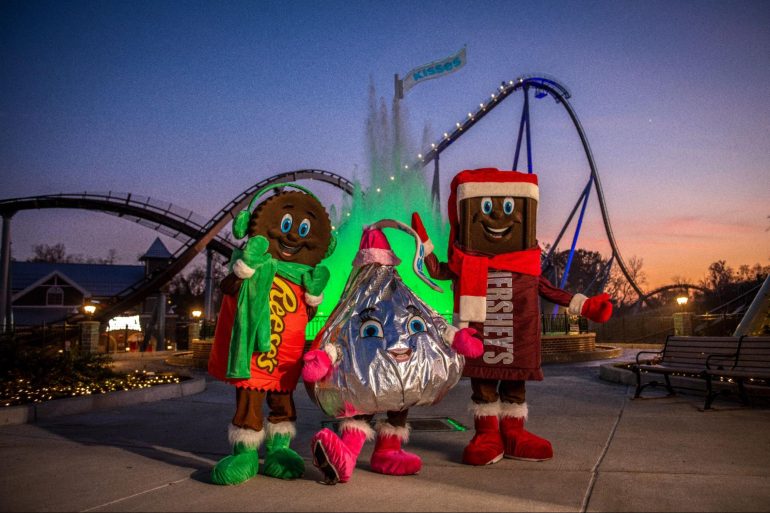 (Photo courtesy of Hersheypark)
Hersheypark is a 121-acre amusement park originally created by Milton S. Hershey as leisure grounds for employees of Hershey's Chocolate Factory. Today, it has cuddly, walking versions of candy to meet, more than a dozen roller coasters and family-friendly rides. Plus with ticket prices under $100, it's a lot cheaper than competitors like Disney or Universal.
Visiting in mid-November through the end of December is particularly delightful as the park transforms into Hersheypark Christmas Candylane, which includes a Christmas light show and a "Kissmass Tree" display (named for Hershey's Kisses). This year, marks the 40th year of Hersheypark's annual Christmas experience.
Note that Hersheypark closes from January through March for off-season maintenance, though there are plenty of other year-round activities to do in Hershey during those months. Those include a visit to one of the city's two spas, both of which offer chocolate-themed treatments such as a cocoa facial. There's also Hershey's Chocolate World, which is adjacent to Hersheypark and remains open throughout the winter with activities like a chocolate tour and making your own candy bar.
2. Dine on savory chocolate meals at The Toothsome Chocolate Emporium
Universal CityWalk Orlando and Universal CityWalk Hollywood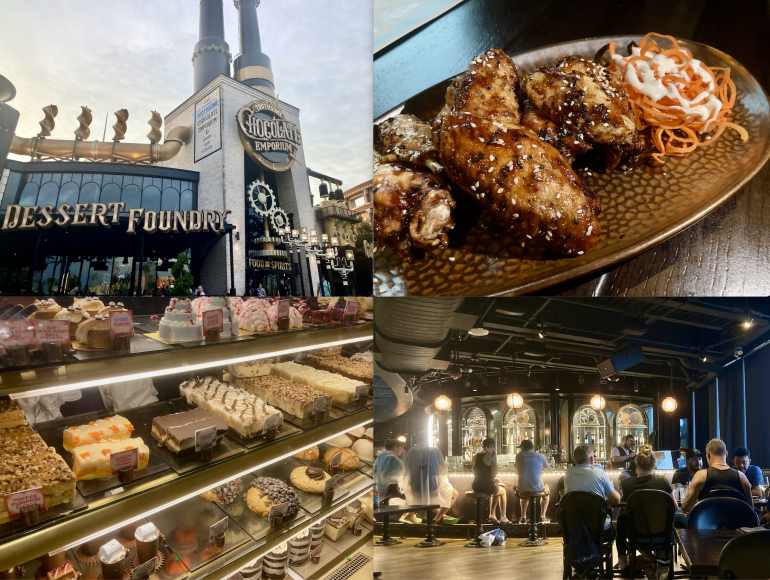 (Photos by Sally French)
The Toothsome Chocolate Emporium & Savory Feast Kitchen is a 19th-century, Victorian steampunk-inspired restaurant with an over-the-top facade that looks like it was designed by Willy Wonka himself.
The chefs have managed to sneak chocolate into even stereotypically savory dishes, including fresh chocolate almond bread paired with salted caramel butter, and flash-fried chicken wings coated in a chocolate stout glaze.
You'll find the restaurant in Florida and California, as it's a staple of Universal CityWalk, which is the pedestrian-only, free-to-visit entertainment complex affiliated with Universal Studios theme parks.
3. Drink a candy cocktail at Sugar Factory
More than two dozen cities worldwide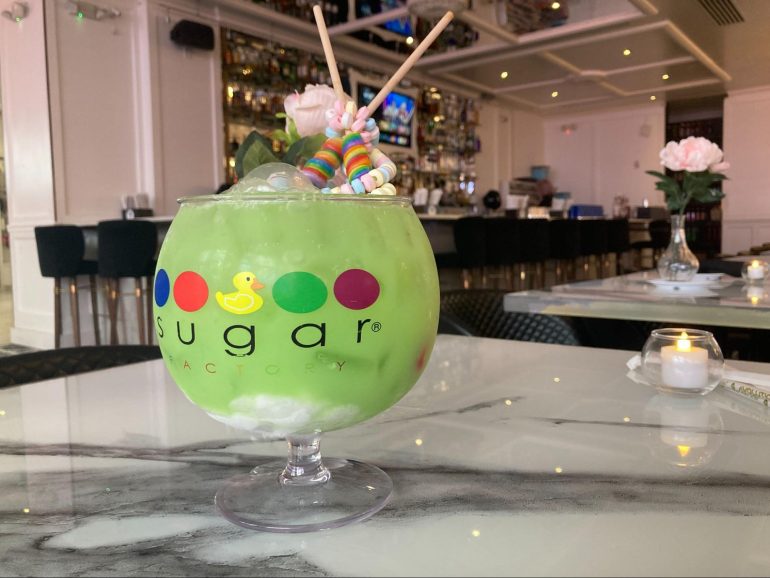 (Photo by Sally French)
Sugar Factory is a U.S. brasserie with a large menu of milkshakes, burgers, ice cream and more. But its most iconic feature is the bar that makes candy-infused cocktails, which are served in oversized goblets. Drinks can be made with or without alcohol, and they include lavish garnishment like gummy flamingoes to top the piña colada and lollipops stuffed into the peach lemonade. Drinks run about $40 each, but one beverage could easily serve a small group.
Sugar Factory has more than two dozen locations worldwide, primarily in tourist centers such as the Las Vegas Strip, Minnesota's Mall of America and Times Square in New York City.
4. Take sweet selfies at interactive art galleries and museums
Cities nationwide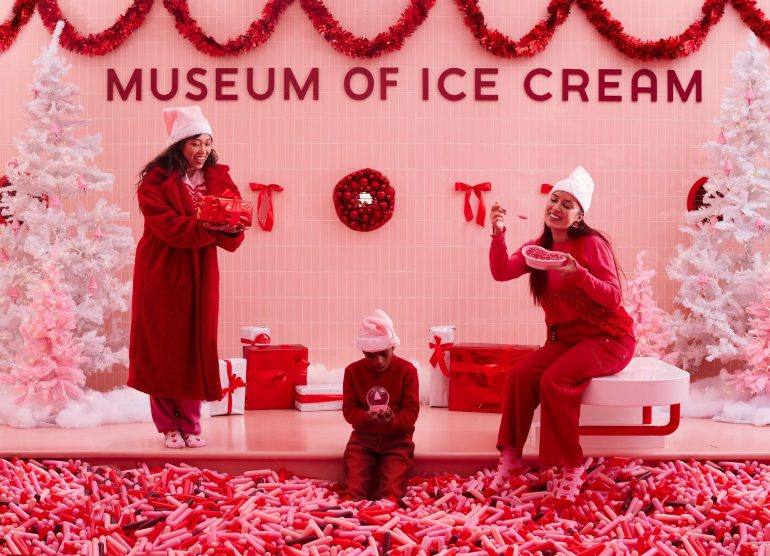 (Photo courtesy of Museum of Ice Cream)
In recent years, there has been a growing trend of sweet, interactive art galleries that are designed with the selfie set in mind. Among those open now is the Sweet Tooth Hotel in Dallas. It's definitely not a hotel, but rather an interactive art museum featuring rooms designed by different artists — most of which put candy at the forefront.
Also in the vein of the sweet selfie-centric museum comes the Museum of Ice Cream, which runs in major cities including Austin, Texas, Chicago and New York. Standout exhibits include a waterless pool filled with 100 million sprinkles made of antimicrobial, biodegradable material that visitors are allowed to "swim" in (but not eat, as these sprinkles aren't edible).
5. Visit one of three chocolate locations at Ghirardelli Square
San Francisco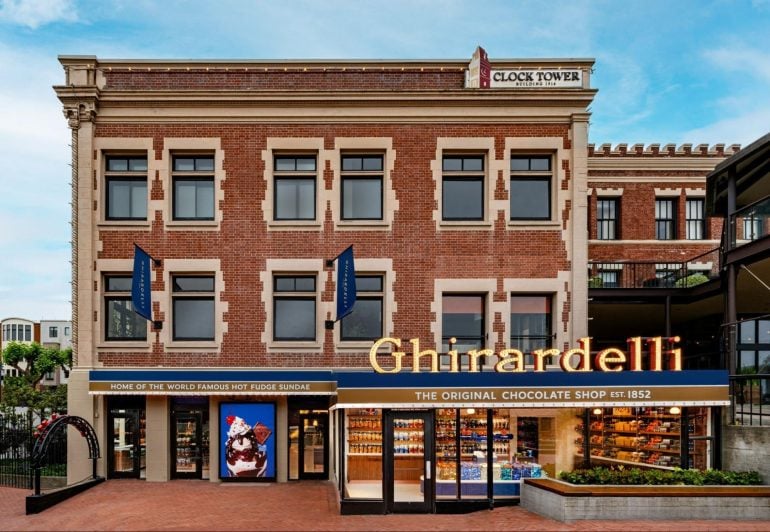 (Photo courtesy of Albert Law)
Nestled on the waterfront in San Francisco's Fisherman's Wharf, Ghirardelli Square originally housed a chocolate factory established by Domenico "Domingo" Ghirardelli.
Today, the square is home to shops, restaurants and art galleries, as well as three outposts of Ghirardelli. Those three storefronts include the original ice cream and chocolate shop, a larger, more elaborate Chocolate Experience, as well as a quick, on-the-go shop.
6. Enter a hot chocolate race
Nearly two dozen cities nationwide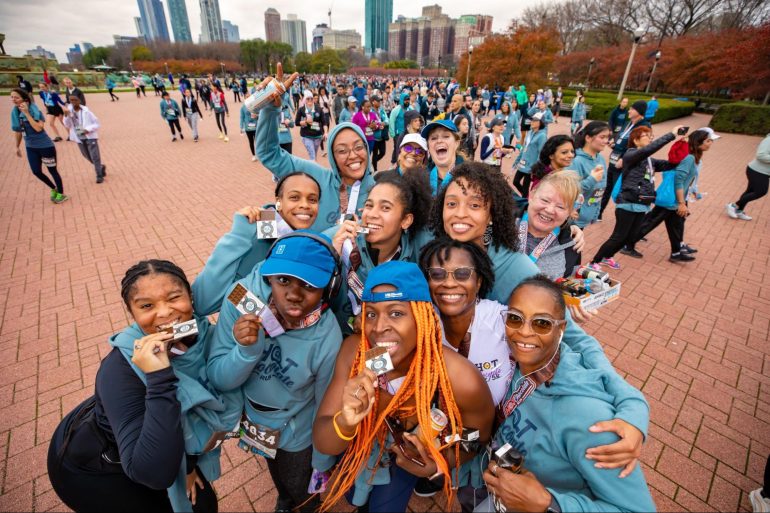 The Hot Chocolate Run in Chicago. (Photo courtesy of USA Today Network Ventures Hot Chocolate Run)
If you've filled up on carbs and are ready to put them to use, you might enter the Hot Chocolate Run. This series of 5K, 10K, and 15K races are held in nearly two dozen cities across the U.S., generally in the winter. The routes are centered around tourist attractions, like Chicago's Navy Pier and Nashville's Bicentennial Capitol Mall State Park. Participants who finish the race receive not just a medal, but also a keepsake mug filled with chocolate treats.
The races are typically held in tourist-friendly cities, and the races themselves can be tourist attractions. Participants can join in a post-run party, but anyone can attend the Hot Chocolate Expo, which is held ahead of the event and also promises plenty of chocolate.
The article 6 Ideas for a Wonka Dream Vacation This Winter originally appeared on NerdWallet.